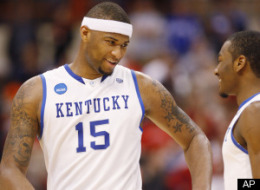 Um. Not sure what to say here. The Cats are scoring in the paint, West Virginia is scoring from outside the arc. It's been weird. The refs aren't helping our cause, again missing several calls……
West Virginia has not scored a 2 pt. field goal. Kentucky has not hit a 3. Kentucky is shooting 35.8% from the floor, West Virginia is shooting 25.8%.
WVU is 8-15 beyond the arc, shooting 53.3%.
John Wall leads all UK scorers with 8 points, 7 rebounds and 3 assists.
There is no way that WVU can continue to shoot outside like this and the Cats can't continue to shoot this poorly. Look for the shots to fall for the Cats as the middle continues to be clogged with the 1-3-1 zone.