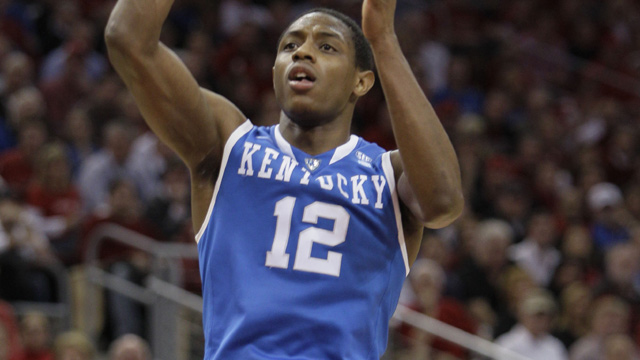 Gary Parrish says the Cats are way better than their record.
Cats face Razorbacks in Fayetteville.
UK Athletics:  Cal, Miller and Lamb preview Arkansas.
Wildcat Blue Nation:  Know your enemy – Arkansas.
Mr. SEC:  Arkansas' Powell 'can't comment' on relationship with Pelphrey.
Chris Bahn:  More than a fractured foot slowing Razorback forward Marshawn Powell.
Jerry Tipton:  Kentucky basketball's rivalry with Arkansas needs a jolt.
Eric Lindsey:  Cal defends all-star decisions of signees.
Brett Dawson:  Calipari:  No influence on Kentucky recruits in all-star options.
Rick Bozich:  Derby Festival basketball classic lacks Kentucky recruits.
Joe Lunardi has the Cats at a 5 seed in his latest bracketology.
Yahoo:  John Calipari is a recruiting machine and great head coach.
John Clay:  Kentucky basketball has opportunity to reap big rewards.
ESPN:  Calipari-led squads usually thrive on D.
KSR:  Are the Cats the most underrated team in the country?
John Clay:  Some quick shots from the UK basketball media opp.
Eric Lindsey:  Final 4-game stretch will determine first-round bye.
Thomas Adams:  View from the Catbird seat.
Dawson:  Calipari keeping Kentucky basketball in the fight frame of mind.
Gary Parrish:  Pearl will be charged with unethical conduct.
Keith Taylor:  Jones says defense giving Cats a lift.
UK Nation:  Anthony Davis has goosebumps over Rupp visit.