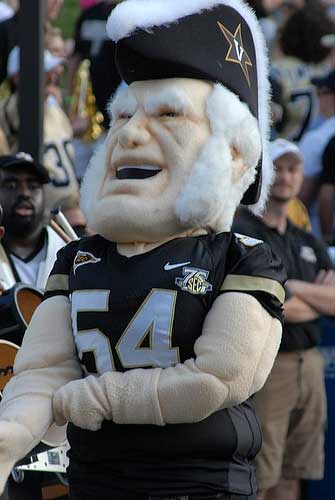 On Saturday, February 12, the Cats traveled to Nashville for some basketball action. Ironically, I posted the following nonsense about their opponents, the Vanderbilt Commodores, enjoy…
– Good mornin' party people and welcome to your own personal hell! It is what you make of it, so let's all try to settle down and deal with the next 45 seconds of your life as civilly as we can. There is a 78% chance I still have a slight buzz from last night, but that is none of your business. We have gathered here today to discuss Ricky martin, rice crispy treats, and their effect on society, I think. I hope to god you are not nearly as confused as I am. It is time for our annual trip to that crap-tastic gymnasium in Nashville, so, let's get the 'Nonsense' flowing!
The Vanderbilt University Commodores! Whenever I hear that name, I can only think of two things…Nerds and how I don't really know what a Commodore is. Based on Vandy's lovely mascot, Mr. C, it is either some form of military ranking or a very odd sexual fetish. The reason that I believe it to be the latter is because I know at least 3 writers for TGR who have shared with me their unabashed love for Mr. C. According to Wikipedia, The term commodore was used
by the Navy during the mid- to late nineteenth century. A commodore was the commanding officer of a task force of ships, and therefore higher in rank than a captain but lower in rank than an admiral. It was the highest rank in the United States Navy until the Civil War. The closest parallel to this now-defunct rank is rear admiral lower-half. Basically what the most reliable source on the internet is telling us is that Commodores no longer exist. It is my opinion
that the military finally figured out how ridiculous it was for a man to dress like that and got rid of their fairy asses.
I can hear you loud and clear TGR…What does a defunct navy rank have to do with a school in Nashville, Tennessee? The school's founder, Commodore Cornelius Vanderbilt is the connection. The odd thing is, Cornelius was as much a Commodore in the military as Perry Stevenson was. Mr. Vanderbilt made a ton of money and was given the nickname, "Commodore", because his fortune was built in the shipping business. If you step back and ponder this, Vanderbilt was
Tennessee's version of Colonel Sanders. A man who was given a nickname that would make you think he was in the military when nothing could be farther from the truth. At least the 'Colonel' ranking still exists within the armed services. I am almost positive master P was Colonel of the mother f**king tank.
Since it is the closest ranking to a 'Commodore', I would love to see the university update its nickname by changing it to Vanderbilt University Rear Admiral Lower-half's. That or Vanderbilt university Ragin' Nerds! C! A! T! S!-