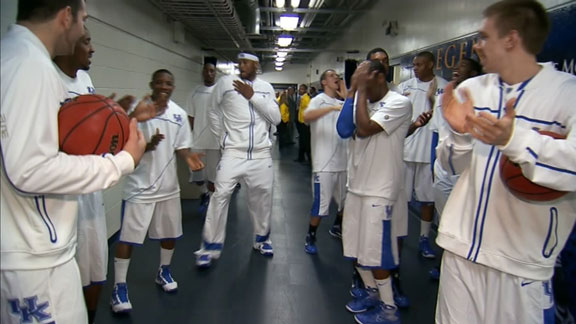 Today's game against the Tide ended like Kentucky's second round game last year against the Vols, not good for the bad guys. Here is the 3rd leg of the 4 part saga…
You would have all been proud of the crew on Saturday morning. Everyone was recovered, and ready to beat some Volunteer butt! My only issue of the morning was whether to wear my Jodie Meek's 'Witness' t-shirt, in order to make sure the Vol fans remembered how Jodie poured in 54 and the order the baskets fell in, or my Jon wall t-shirt so that UT fans would know that there is no Scotty Hobson dance, only a J-Dub jig.
Ticket prices were once again, out of this world on Saturday morning. Scalpers were talking in the thousands when discussing a transaction with perspective buyers, this, once again, meant my brother was watching from a near by establishment. The first time I was told that there were more people without tickets, than people with tickets; I was hesitant to believe that. Like I have bragged about before, I have been to 5 and I had never known that to be the case.
In Music City, this was absolutely the case. I know the SEC wants to move around the tournament to different parts of the south, but they have to put this thing in bigger arenas/domes. The tournament is becoming more and more popular; it is only going to grow. Why put money into the pockets of scum bag scalpers unnecessarily, and keep fans of your conference out of games they are willing to pay you money to attend. You might be able to provide HD
cameras to your SEC Network games with a few more bucks.
Going into the arena, I really thought it was going to be a pretty good Tennessee crowd. I guess there horrible school colors somehow deceive the mind and eyes, because there might have been 2,000 UT fans, and that would be a generous estimate. I either heard or read that someone had said "Tennessee fans should be embarrassed" and they should have been, it was in their own state.
My lovely wife had surmised earlier in the week that the C.A.T.S! chant was probably as bad to UT fans as 'Rocky Top' was to us. Stating that that song makes her ears bleed, I completely agree, that song is the entrance music of the devil. I decided before the game that I would count the number of times it was played, and I did. It was played twice before the teams were even introduced; it was on the 3rd playing that the Big Blue took control of the arena.
When the first cords of that joke of a fight song fired up, the BBN started the "Go Big Blue" chant throughout the entire song. From our seats, you could not even faintly hear the band playing, it was completely drowned out, and it was one of the most inspiring moments of my BBN career. The next 16 times they played it, the 'Go Big Blue' chant went up every time and it was great. The sparse Volunteer crowd made it tough to find someone to talk trash to during the "Beat Down at Bridgestone" (I think I just made that up). The few Vol fans that were near me probably heard me scream to Daniel Orton, "Be careful Daniel, He Might have a gun!" a few times.
I told you that I had a story about Ashley Judd's backside, and I do. A couple of TGR idiots had seats 20 rows behind the movie star, and she never sat down the entire game, none of the games. He had quite the view for the greatest show on earth, and the basketball games too. The guys sitting directly behind her did not pay nearly what their seats were worth, I am sure. I heard from a few UK fans that they are tired of Ashley being put all over TV during UK's games, your thoughts, if any?
The game was great, as we all know. There is no better team and coach to put a complete beaten on than them. It took Vol fans, the few, a lot less time to get out of the gym, then it did to get in. The Big Blue celebration was on!
I could not get my hands on a cold beer fast enough. The bar we found ourselves at after each game is on the corner of 4th Avenue and Broadway, that is why it is called Legend's Corner, because it is on a corner (Tennessee is a very intelligent state). After a few drinks, my brother and I strolled out to see if their was any ticket scammers out looking for a sucker. Not long after we made it out the door my brother looked up and saw something down the street that caused him some distress. When I asked him what he saw, he said that some of the UT players were walking our way.
He was distressed simply because he knew it would be physically impossible for me to let them walk by us without saying something 'smart asses to them. Lucky for him, they chose to take the opposite side of the corner we were on, unfortunately for them, the rest of the TGR crew was walking towards them on that side of the building. The hated Scotty Hobson happened to be the one the guys recognized, and immediately started the chant, Scot-Ty-Hob-son! With a clap in between chants, this seemed to upset Mrs. Hobson. Scotty's mother had some very explicit comments for the TGR boys, I can't believe such a pretty lady could have such a dirty mouth. This became the highlight of the entire trip for a few of us.
Once again, we were at legends too long. This time long enough to have the next game, Vandy vs. Miss State, end. That meant plenty of victorious MSU fans would have to walk right by us to get out of the area, another chance to run our mouths. I can't understand why UK fans get a bad rap. I don't think I have said the words, "call me" as many times as I did in an hour's time. I held my hand to my ear like I was talking on the phone for the duration too. I had no idea that encouraging MSU fans to leave their water bottles in their hotel rooms could be so much fun, and I had no idea it would bother them so much when you reminded them to do so.
The last good story of the night happened, yet again, in the Legend's Bar. The bar and its employees were very hospitable the entire time they served us throughout the weekend, let me point that out. The bands and the lead singers of its bands let UK fans participate in its songs and most of them even put something to do with Kentucky into their songs they played. Everything was great, until late in the day on Saturday, that is when the lead singer of the band on stage decided to play 'Rocky Top' after we had kicked UT's tail all over the floor across the street. This infuriated quite a few of the UK fans in attendance, including one inpeticular TGR mom. Legend's is damn near her favorite bar in America, it is the reason we spent so much time there.
After spending so much time and money in her favorite bar, the idea that they would play that song at this moment made her so mad that she got up and left, vowing never to return. It is her favorite bar! She spent 99% of her time in Nashville there! She talked about it for an entire year after last year's tourney, but it had betrayed her and she took her ball and went home. If that ain't Kentucky, I'll kiss your ass. Go cats!