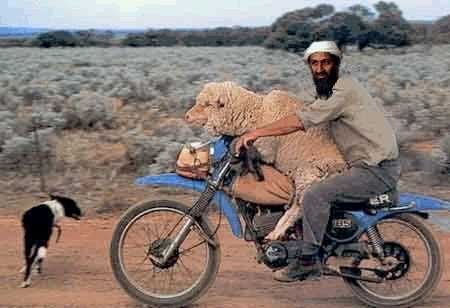 In recent months, we have honored such people as the 10-member NCAA Men's Division I Basketball Committee, Karen Sypher & Rick Pitino, Bruce Pearl, a man who was upset with the way his breakfast sausage was packaged, critics of Christina Aguilera, and Satan himself, Bobby knight, with the title of TGR's Looker of the Week. Some might speculate that we are not actually honoring these people and instead, are making fun of them. I would like to answer to those allegations with a "How dare you!" To each is own TGR readers and if you don't feel these folks deserve some recognition, suck it.
I never thought that we would ever celebrate anyone's death on this site other than Bobby night's, but I was wrong. That beautiful day will come, but today we celebrate the most disgusting and vile piece of pollution ever introduced into our ocean's waters, Osama bin Laden! The rat which sent so many suicide bombers into buildings and other structures, but never did so himself, instead, sitting on his couch making YouTube videos, is officially fish food! The coward who encouraged Muslim Martyrs to take their own life in order to take the lives of innocent people will never poison the world again.
The founder and leader of al Qaeda, as we speak, is at the bottom of a deep, dark, cold ocean, and honestly, that seems like a much nicer place than he deserves. The only problem I can see with Bin Laden's ocean floor paradise is that it is going to be tough to get an address for him in order to send him his "TGR's Looker of the Week" t-shirt. If there are any Jihadist out there that are looking for something to do, I will supply the floaties and snorkel if you want to go looking for your man. Just as long as you deliver to him his shirt.
Enjoy your bath Binny! I only wish you could feel the fishes eating your flesh from your soggy old body my friend. How I would love to have a photograph of your face when that Seal put that bullet in your evil brain. Until we meet again old friend, you are TGR's Looker of the Week! Rot in Pieces Bitch! U! S! A!