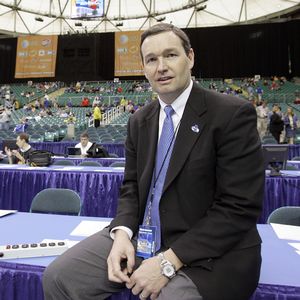 Every time I shut down for just a few hours to enjoy my day something worth putting up on the site happens. Poor me. Anyways, while we were all headed home after work Mitch Barnhart put all the UT talks to bed via Twitter and he also hinted that maybe him and Coach Cal's relationship is a bit better than we all think… Here's his sequence of Tweets, the most I have ever seen from our AD which is saying something:
Mitch Barnhart: Let me reiterate that Kentucky is where I want to be. I've got good coaches at UK, I have a family that has settled in here, I have a son who is about to be a senior in high school. As I said before, I have unfinished business here and this is where I plan to be until I decide on my next path. That will be something that will probably be outside of athletics when I'm 60 years old.
We are working on an extension with Cal to ensure that he has long tenure at Kentucky.
Cal and I are the same age and share some of the same thoughts on our careers and I'd like to align his contract with my current 8-yr deal. Once we get a finalized contract, we'll make a formal announcement.