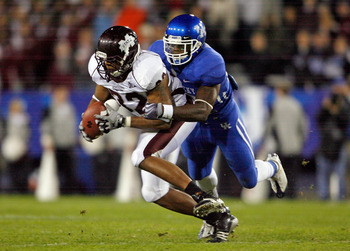 Edward Aschoff of ESPN.com continues the positional rankings of the 12 SEC schools today by ranking the linebacking cores. It is no secret that Kentucky returns one of, if not the best, linebacker in the conference in senior, Danny Trevathan. Here is what Ed says about UK…
6. Kentucky: Things start with one of the nation's best in Danny Trevathan. He led the SEC with 144 tackles a year ago and the word out of Lexington is that he's looking to be even better this fall and wants to move around the field a lot more. Ronnie Sneed returns as the starter in the middle, after grabbing 61 tackles a year ago. He made some nice improvements this spring. Ridge Wilson will be another hybrid on the outside, and will occasionally lineup as a rush end for the Wildcats. The talented Winston Guy, who has played just about everywhere on Kentucky's defense has finally settled into his home at linebacker and should play closer to the line of scrimmage and be a nickel linebacker.
The linebackers and defensive backs for the Cats will be the strong suit for the defense. Most of both groups return with a lot of good SEC experience. It is questionable whether or not having your butt kicked over and over again is good experience or not.