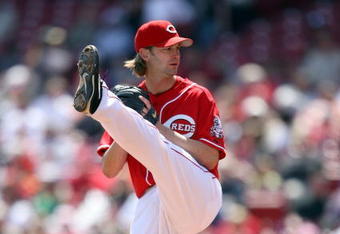 I had given up.
Technically, I pronounced the season dead after Tuesday night's loss, but in actuality I had a very uneasy feeling when the Reds couldn't manage to push across a couple of runs to beat Chris Crypenter with Cueto's gem on Independence Day.  They were faced with having to rely on Volquez and Arroyo to find a win for them.
For those that don't like surprises, Volquez did not disappoint.  He gave up three homers, put the Reds in an early hole, and assured the Cardinals a series win.  So all hopes for a win in St. Louis would rest on the arm of Bronson Arroyo, which has lately resembled a machine at the batting cage set to "little league" velocity.  The Reds even held Dontrelle Willis out of a start in Louisville because they didn't think Arroyo would be physically able to pitch.
But, once again, Bronson showed some unbelievable toughness and was lights out for five innings and left with the game still well in hand.  And then it all fell apart.  The once 8-0 lead became 8-5, then 8-7, and a rare blown save by CoCo sent them game to extras.  I turned the game off and on so much the neighbors probably thought I had a strobe light installed in my bedroom.  Thankfully, Ramon Hernandez played hero again and Chapman (really?) came in and blew the Cards away in the 13th to secure victory.
So, of course, they have sucked me back in.
Wednesday's game was somewhat a microcosm of the Reds' season.  They showed signs of the superior offense we expected.  They had timely hits.  Arroyo pitched great as a starter, and Chapman was dominant as a closer.  But along the way they lost their focus and blew an EIGHT RUN LEAD.  At various points of this season, the offense has produced, the starting pitchers have put together a string of quality starts, and the relievers have dominated.  But it doesn't seem like this has ever happened at once.  The Reds are like my golf game:  once I get my drive figured out, I lose my short game.  And once I figure out my short game, I can't putt.
A couple of other random lineup observations:  First, I think Edgar Renteria came to Dusty and said "I'm not producing because I'm not playing enough.  Make me the primary shortstop through the All-Star break and let me show you what I can do."  So far, the results have not been good.  In six games of July, Renteria is batting .167.  He will need a big series against the Brewers to convince Dusty to keep him in the lineup.
BREAKING NEWS: Zack Cozart is in Milwaukee.  Looks like Dusty has all the information he needs to decide what to do with Renteria.
Second, it looks like the outfield of choice features Lewis in left and Heisey in center.  Though it represents a defensive drop-off at both positions (yes, Fred Lewis is actually WORSE than Jonny Gomes) it does represent a bit more offensive consistency.  I have been a Fred Lewis doubter all season long.  But the guy has hit over .300 in the last eight games, so it seems to make sense to keep him in there.
So here we are.  A four game series in Milwaukee began Thursday with a Reds loss 5-4 to the Brewers, if they can manage 3 of 4 in the series (not far-fetched, as Bailey, Leake and Cueto will take the mound for three of them) they will somehow still be in the race at the break.  The Cards, Brewers and Pirates (really?) are as much to blame for this as anyone.  By my math, Cincinnati should be at least five games out of the lead.  The margin is only three.  The Brewers series is HUGE.  By Sunday, we should have a good feeling of whether the Reds will be buyers or sellers before the trade deadline.