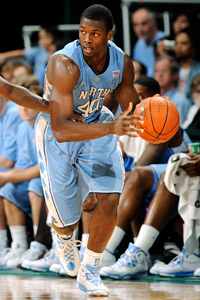 1. North Carolina Tar Heels– Harrison Barnes leads maybe Roy Williams' deepest roster since he has been in Chapel Hill. Will the "Expectations" be too much to handle for this team??
2. Kentucky Wildcats – John Calipari's back with even a bigger, more talented squad from last year. All eyes will be on Sophomore Terrence Jones as he looks to be the "main" cog on this unit that is built like a Ferrari.
3. Connecticut Huskies – The defending National Champs are reloaded and ready for action……odd too see Huskies being led by a Lamb (Jeremy).
4. Syracuse Orangemen – Jim Boeheim appears to have his deepest and best team since Carmelo Anthony led them to a National Championship. Only Rick Jackson was lost from a team that can now play "man-to-man" as well as the "2-3 Zone".
5. Duke Blue Devils – Coach K has a squad that is strong in the middle with the Plumlee Brothers (Miles, Mason & Marshall) but it is the much anticipated play of guard, Austin Rivers that has the "Cameron Crazies" so excited.
6. Ohio St. Buckeyes – Jared Sullinger is back in Columbus for at least one more season and he has some unfinished business………he wants to give coach Thad Motta a Championship, and not just a Big Ten Championship.
7. Florida Gators – The Gators have arguable the best and deepest back-court in the nation but it will be the post play that determines just how far Billy "the Kid" Donovan's squad will go.
8. Memphis Tigers – Athleticism and talent are abound in Memphis but will the youth they have be best served in a conference where they will not be challenged?
9. Vanderbilt Commodores – Coach Kevin Stallings has his deepest squad in 13 seasons at Vandy and they are primed to shake off the "one & done" syndrome in the NCAA Tournament. John Jenkins is one of the most underrated players in the country.
10. Baylor Bears – Perry Jones came around at the end of last season; the "super Sophomore" will be expected to be a star this season if Baylor is to reach its goals.
11. Louisville Cardinals – Rick Pitino has a good mix of talent led by PG Peyton Siva; the hope here is that talented Freshman, Wayne Blackshear is eligible and or healthy to play because he is an exceptional player.
12. Pittsburgh Panthers – If nothing else, you can count on a Jamie Dixon ball-club being physical and defensive minded. With Ashton Gibbs back for another season, you know he will score points but will he get help from anyone else.
13. Wisconsin Badgers – Led by undervalued PG, Jordan Taylor the Badgers can play with anyone in the nation. The Badgers must find some perimeter scoring though.
14. Xavier Musketeers – Guard Tu Holloway is as good as any guard in the country. The problem was he had a tendency to disappear in some games down the stretch last season. Hopefully he can stay off of the "milk cartons" this season.
15. Michigan Wolverines – This is definitely John Beilein's deepest and best team since he took over in Ann Harbor. For the Wolverines, it will be about hitting the boards as they finished -11, on average last year in games. Guard Tim Hardaway Jr. is one of the premier scorers in the Big Ten conference.
16. Arizona Wildcats – Gone is all Mr. Everything, Derrick Williams but don't think that Sean Miller still doesn't have a viable team. The Cats will battle with the Bruins for supremacy of the Pac-12.
17. Alabama Crimson Tide – Jamychael Green is one of the more overlooked players in the SEC but he plans on having everyone take notice this year. Add to that a tough non-conference slate and the Tide will be battle tested for conference play.
18. Kansas Jayhawks – While this is not a typical Bill Self team, they should still be able to hold their own against good teams. PG Tyshawn Taylor will be the catalyst for this squad but an off-the-court incident already has him sitting for two games.
19. UCLA Bruins – The Bruins have maybe the best front-court in the Pac-12 and they will be very physical in the paint. Also add the Ware Twins (transfers from UNC) and now you got more size and depth. If they can find steady play in the back-court Ben Howland may have Westwood rocking once again.
20. Texas A&M Aggies – Forward Khris Middleton is a solid player who may be the best kept secret in the Big 12. He will have to should the load for 1st year coach, Billy Kennedy (former Murray St. coach).
21. Cincinnati Bearcats – Coach Mick Cronin's team is always one of the most physical teams in the nation and this year will be no exception. Led by Yancy Gates, the Bearcats have a chance to improve on last years 26-9 record.
22. Florida St. Seminoles – The Noles are a great defensive team that has trouble scoring at times. But in the ACC, behind UNC and Duke, they are the next best team in a weak conference.
23. Marquette Golden Eagles – Buzz Williams is one of the most energetic coaches in the nation and he always produces tough teams. Guard Darius Johnson-Odom is an overlooked talent who plays both ends of the court. If Oregon transfer, Jamil Wilson works out, Marquette will be a contender in the Big East.
24. California Golden Bears – Jorge Gutierrez has developed into one of the best players in the Pac-10 and Mike Montgomery hopes that Gutierrez can help lead his team back to the "Big Dance".
25. Temple Owls – Fran Dunphy's team has a solid core of players returning (26 wins last season) led by guards Juan Fernandez and Ramone Moore. If they can get production from the front-court then the Owls are always dangerous to play in NCAA post season.